Molybdenum Wire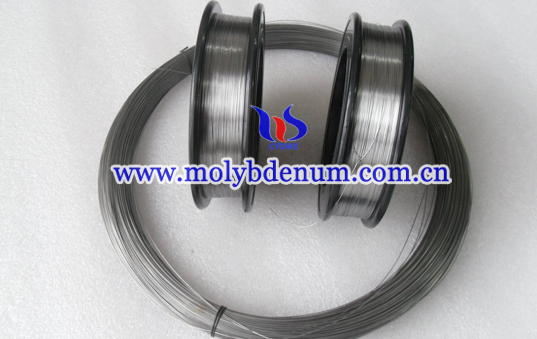 Introduction
Molybdenum wire has properties of high tensile strength, small elongation ratio, good stability and high cutting precision. Molybdenum wire with 99.95% molybdenum is for single or double spiral cores, magnetron grids for lamps, locating rods and leading in pins, etc. Cutting Molybdenum Wire is for cutting machining for copper molds, hard-metal, magnetic materials, etc. with doped rare earth elements, suitable for high current (3A5A), high efficiency. High Temperature Molybdenum Wire is for high temperature structural material (printing pins, nuts and screws), halogen lamp holders, Hi-Temp furnace heating elements and leads for quartz and Hi-Temp ceramic materials etc.
Producing Method
Meeting the standard of GB4183-84. At the same environment and status, the using time could be improved to 100% or 200%.
Extend rate less 3%. The molybdenum wire could keep their good status.
The molybdenum wires are same size and lubricity on the face.
There are all kinds of molybdenum wire in our factory and they are good quality.
The molybdenum wires are packed at vacuum environment and could be kept more than 1 year
Chemical Specification
| | |
| --- | --- |
| Categories | Properties |
| High-strength molybdneum wire | High tensile strength, high abrasion resistance, long life |
| Cold drawing molybdneum wire | Apply cold drawing production technology, high-strength,  smooth surface quality |
| Fixed length molybdneum wire | In addition to the characteristics of high intensity Mo wire, there are advantages like fixed length, easy-to-use, high utilization rate |
| High-precision molybdneum wire (special for medium speed wire cutting) | Add special element to ensure higher tensile strength, wear resistance and longer life. |
Another category of molybdenum wire is high strength molybdenum wire. High-strength Mo wire is a kind of product which has been added rare earth, applies to cutting all types of die steel, carbide, copper, and other materials, tensile strength higher than other similar products, with strong electrical resistance, and long life.
All the products mentioned above are offered in our company. If you have any interest or requirement in molybdenum wire or other molybdenum related products, please feel free to contact us by e-mail: sales@chinatungsten.com sales@xiamentungsten.com or by telephone: 86 592 512 9696.